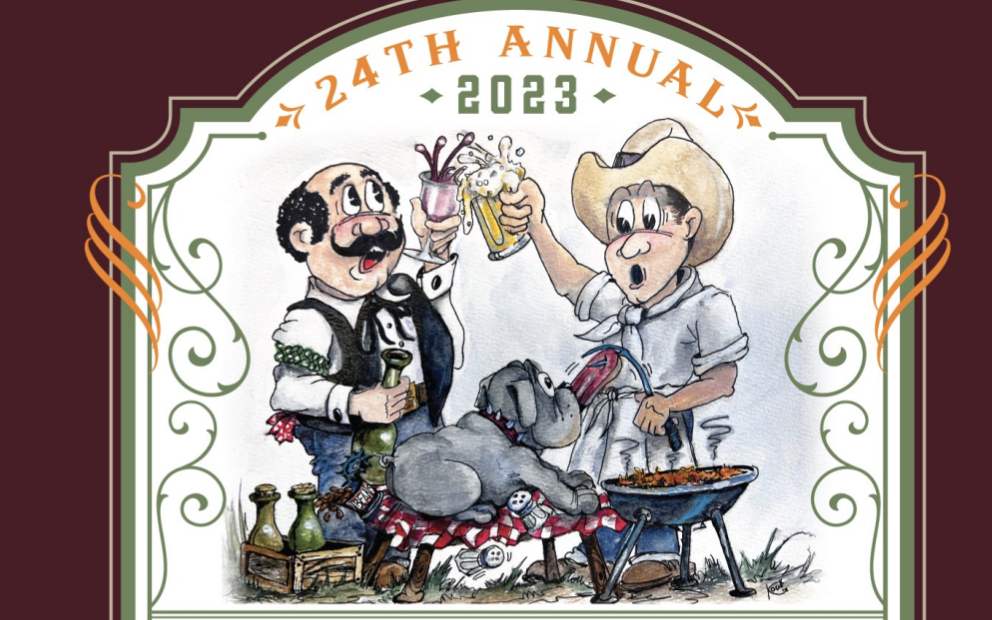 FOR IMMEDIATE RELEASE
Paso Robles, California, August 4, 2023 –
The Rotary Club of Paso Robles is preparing for their 24th wine, beer, and food fundraising event here on the Central Coast of California – the annual Winemakers' Cookoff in Paso Robles, California.  The event is set for Saturday, August 12th, from 6:00-9:00 PM at the Paso Robles Events Center.  The Winemakers' Cookoff is the largest fundraiser put on by the Rotary Club of Paso Robles and all monies raised after expenses go directly into the Harlow Ford Scholarship Fund for local high school seniors at Paso Robles High School and Liberty High School.  Last year alone, Paso Robles Rotary Services, Inc. gave out nearly $90,000 in scholarships to students preparing to attend trade schools, colleges, and universities.  The goal of the club is to be able to give out $100,000 in scholarships annually.
The Winemakers' Cookoff gives local wineries and breweries a chance to showcase more than what they can pour, but their culinary skills as well. The event offers four competition categories for participants: the People's Choice Award, Judges' Award, Professional Chef Award, and Spirit Award. Attendees are able to sip and savor throughout the event and use their tickets to cast their vote. The wineries and breweries make every attempt to impress participants by pouring great pairings with the food they offer and often go above and beyond to delight attendees with fun themes to show off their fundraising spirit. Many wineries and breweries return year after year to vie for the top awards, but each year brings new competitors to the event as well, leaving no shortage of food, wine, and beer to sample.
In addition to the lineup of generous wineries and breweries which can be previewed on the Winemakers' Cookoff website, the Rotary Club of Paso Robles is able to support this tremendous fundraiser thanks to the generosity of other local businesses through sponsorships. This year, Stifel is returning as the title sponsor along with other event sponsors including Guaranteed Rate, Central Coast Home Health and Hospice, Idler's Home, and RE/MAX Parkside Real Estate.
Attendees must be 21 years or older to attend and ticket sales will be limited but can be purchased online in advance to secure a spot. Tickets are available for $100 per person or $50 each for designated drivers. Sponsorship opportunities are also available. For more information on the Winemakers' Cookoff, visit https://winemakerscookoff.com or on Facebook at @WMCOPasoRobles.
About the Rotary Club of Paso Robles
The Rotary Club of Paso Robles (#1602) was chartered in 1924 and has a long history of "service above self," the motto of Rotary International. The Club is very active in the community through scholarships, sponsorship of the local Boy Scouts of America organization, and raising money for local projects like homeless shelters, food banks, and dictionaries for third-grade students. To get more information on fundraising, events, speaking opportunities, or to join the Rotary Club of Paso Robles, please visit https://pasoroblesrotary.org.
About Rotary International
Rotary brings together a global network of volunteer leaders dedicated to tackling the world's most pressing humanitarian challenges. Rotary connects 1.4 million members of more than 46,000 Rotary clubs in over 200 countries and geographical areas. Rotary members improve lives and bring positive, lasting change to communities around the world by promoting peace, fighting disease (like the mission for the global eradication of polio), providing clean water and sanitation, supporting education, saving mothers and children, growing local economies, and protecting the environment.  For more information, visit https://www.rotary.org.
###